WebMediaBrands Annual Awards
Various WebMediaBrands sites select "best of" winners in a variety of categories on an annual basis. Check the following sites for entry information as well as a list of previous winners. For additional information contact our marketing department at [email protected].
To request an eps version of a Product of the Year Award logo click here
---
Developer.com -- Development tools and technologies should make your job more productive and efficient. Here is your chance to help choose which products should be named Developer.com Product of the Year by voting for the products you believe are the best in their category.

2009 Winners Announced!
The categories for this year's contest will be:
Technology
Framework
Development Tool
Development Utility
Database Tool or Add-in
Wireless/Mobile Development Tool or Add-in
Web Service or Web 2.0 Product
Java Tool/Add-in
JSR (Java Specification Request)
.NET Tool/Add-in
Security Tool or Add-in
Open Source Tool
---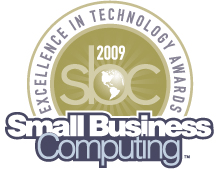 In our quest to find the products that do a standout job in the real world, we at SmallBusinessComputing.com, ECommerce-Guide.com and Webopedia.com ask you to tell us what products best help you keep your small business running efficiently and profitably. Based on those votes, along with input from editors and writers we award the Small Business Computing Excellence in Technology Awards.

2009 Winners Announced!
Categories include:
Hardware
Desktop PC
Notebook PC
Printer
Multifunction Device
Mobile Device
Desktop Storage
Network Storage
Server
Security
Backup and Recovery
Security
E-Commerce
eBay Alternative
Online Marketing
Storefront/Shopping Cart
Free E-Commerce Tool
Site-Merchandising Tool
Software/Services
Productivity
Accounting/Finance
Sales/Customer Management
Collaboration/Communication
VoIP
---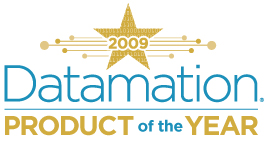 Datamation readers choose among a healthy mix of familiar players and ambitious upstarts, which products best reflect the diversity and adaptability of enterprise technology.
2009 Winners announced!
PC Security Software
Cloud Computing product/solution
Enterprise Linux
Enterprise Security
Business Laptop
Handheld Device
Network & Systems Management
Office Productivity Software
Virtualization Software
Mobile Application
2008 Winners
---
Intranet Journal
Welcome to the Intranet Journal 2009 Product of the Year awards. It's now time to vote for your favorite, most useful, creative and inventive software tools.
Categories include:
Intranet Design Suite
Semantic Web Application
Blogging Software
Document Management/Collaboration Product
Enterprise Search Tool
---
ServerWatch.com

Which servers and related products made your enterprise more efficient and more profitable? This is your chance to weigh in and reward the vendors that have earned your trust -- and your dollars.

2009 Nominations begin March 17!

Categories include:
Small Business Server (1-4 processors)
Midrange Server (4-16 processors)
High-End Server or Mainframe (32 processors and up)
Storage System
Blade Server
Operating System
Virtualization Platform
Virtualization Tool
Automation or Compliance Tool
Green Initiative
2008 Winners
---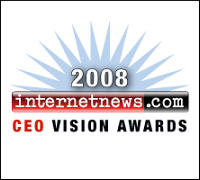 internetnews.com
We created the InternetNews.com annual Vision Awards to find the most inspired executives who possess a unique mix of talent, drive, energy, leadership -- on top of a steely conviction about their technology vision, starting with CEOs at technology companies big and small. We set out to study who is impacting the industry on the strength of a clear vision -- and who is executing on that vision.